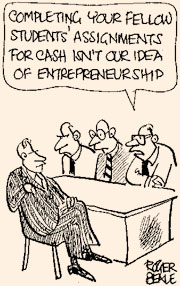 Entrepreneurship is the key driver of a dynamic company and involves the recognition and evaluation of opportunities, where that means increasing the value of a existing product or service or creating mass markets with new technology.
It is triggered by four main factors, first of all, discontinuity: social and technological shifts (for example, the growth of broadband, or the growth of ageing populations) create challenges for policy makers but opportunities for entrepreneurs. Secondly, regulation can force new innovation, as environmental regulations created mobile phone opportunities with the opening of wireless spectrums. Technology is also an important trigger; the application of existing technology can lead to the development of a new industry and the solving of a problem in a way that is exploitable in terms of intellectual property. Finally, serendipity, or accidental discovery can encourage entrepreneurship, though it's comparatively rare when compared with the gains made by small changes to supply channels.
Entrepreneurship involves creating or discovering new ideas or opportunities for the purpose of creating value, whether economic, social, or even political – and forming a new organisation to do so. An entrepreneur is a person who practises entrepreneurship.
examples of entrepreneurship
According to this definition, the late Steve Jobs was an entrepreneur when he founded Apple, but no longer practiced entrepreneurship once he launched new innovations as a corporate manager. The founders of social networking websites Twitter and Facebook are practising entrepreneurship.

Somebody who starts up a "copycat" company may be an entrepreneur in a limited sense, by creating value for him/herself and his/her family and intensifying price competition to the benefit of consumers. But as an act of entrepreneurship, it involves little novelty and little value creation, so is less "entrepreneurial" than, say, the launch of a new biotech company which commercialises a brand new life-saving product. [1]